Introducing The Visionary 2017

Chairman, President and CEO, NIKE, Inc.
Once a year, the National Retail Federation recognizes a person who is a hero to business students, a mentor for peers, a fierce competitor, and a brilliant executive who has changed the landscape of retail in a monumental way. The Visionary is NRF's highest honor, awarded to an executive who demonstrates exceptional leadership and a track record of innovation in an industry booming with talent.
For The Visionary, innovation isn't a buzzword or a new concept – it's part of their DNA. They set the standard for tomorrow's retail leaders.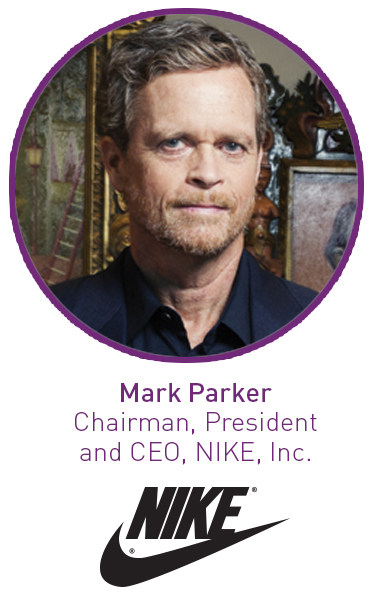 Biography
Long before he was named Chairman, President and CEO of NIKE, Inc., Mark Parker was leading the company in other ways. After running competitively at Penn State University, Parker joined Nike as one of its first footwear designers in 1979. And he's been at the center of Nike innovation ever since. For more than 30 years, he's brought innovative concepts and engineering expertise into such vital roles as Vice President of Consumer Product Marketing, Vice President of Global Footwear and Co-President of the Nike Brand. He's led the way for Nike Air and a multitude of industry-breakthroughs in product design. In addition to helping lead the continued growth of the Nike brand, Parker is responsible for the growth of NIKE, Inc.'s global business portfolio, which includes Converse Inc. and Hurley International LLC.